MSG BARRY LEVERETTER (AI)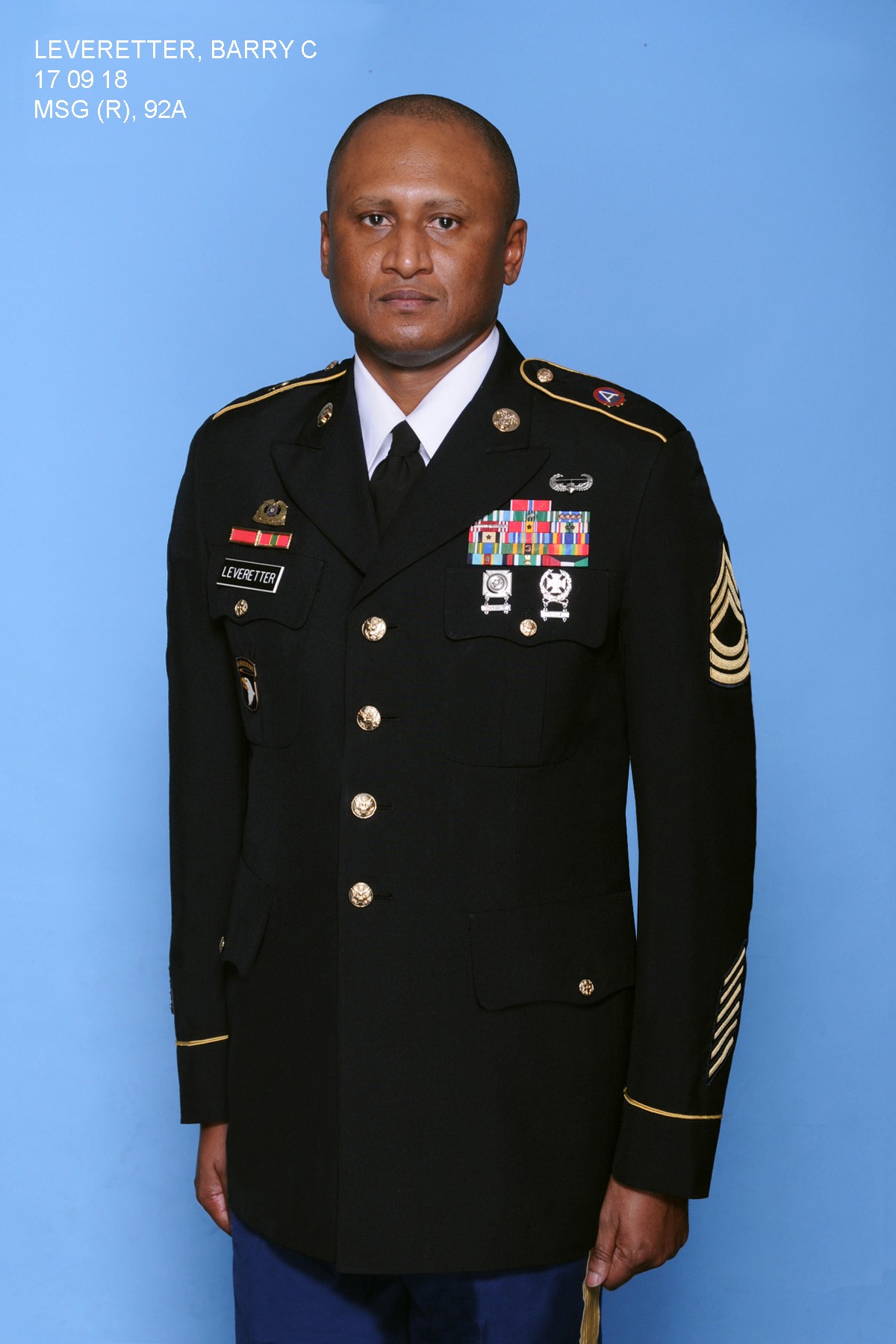 I am Master Sergeant (Retired) Barry C Leveretter. I am a native of Longs, South Carolina. I proudly served 23 years Active Duty in the United States Army, to include combat tours in Iraq, Afghanistan, Kuwait, and Saudi Arabia. I began my career at Fort Knox, Kentucky, where I attended basic training in 1989. I went on to become a Personnel Admin Specialist (75B) and later an Automated Logistics Specialist (92A). I had a vast array of assignments both stateside and abroad, to include Ft. Polk Louisiana, Mannheim Germany, Fort Campbell Kentucky, Fort McPherson Georgia, Fort Lee Virginia, Okinawa Japan, Seoul South Korea, and Fort Bliss Texas to name a few. I retired in March of 2013 while assigned to the prestigious 3rd Army at Shaw Air Force Base in Sumter, South Carolina. Throughout my career, I received numerous awards, to include the Bronze Star (BSM) and the Meritorious Service Medal (MSM).
Upon retiring, I began my next career as a Junior Reserve Officer Training Corps (JROTC) Instructor at Denmark-Olar High School. I have served in that capacity since 2013. I have been named the Teacher of the Month and Teacher of the Year on separate occasions. During our latest accreditation inspection, our program received the Gold Star, which is the highest rating possible for a JROTC organization. I obtained a Bachelor's Degree in Organizational Management from Claflin University in 2019.
I have been married to my beautiful and supportive wife Simquita since 1997. Our daughter, Nyah, is 19 years old and attends the University of Kentucky on a full basketball scholarship. We also have a 24 year old son, Nicholas, who is a Noncommissioned Officer in the US Army. He is currently stationed at Fort Riley, Kansas.
My goals for this program are to continue to motivate cadets to become the best version of themselves and to expose our students/cadets to all of the opportunities that are available to them once they graduate from high school.